Welcome to
Absolute Care Staffing Health Agency
Absolute Care Staffing Health Agency, Inc. is a trusted North Carolina based provider of quality home health care services. We seek ways to help clients at home maintain and improve their level of independence.
Our health care staff and case managers are here to support you and your family so that continuity of care is achieved. Whether you've recently been discharged from the hospital or managing the symptoms of a chronic illness, we can definitely tailor fit a care plan for your specific health needs. We believe that through efficiently executed home care plans, you can thrive at home under the care of our devoted and trustworthy employees.
Unsurpassed Level of Care
Close coordination with your physician and regular communication with family members
Access to community resources for health services and social programs
Guidance in rehabilitation and crisis intervention; Supporting the client's decision to remain independent at home
Pain Management, Mobility Enhancement and Assistance with Daily Living Functions
Affordable care services; Insurance Accepted
For every client and family that we care for, we strive to achieve their utmost satisfaction. We hope to bring the same to your home. Please choose Absolute Care Staffing Health Agency as your provider of home health services.
To request for assistance, please call 919-784-9218.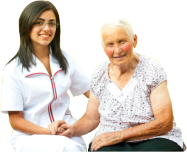 Our Mission & Vision Statement

At Absolute Care NEMT Transportation, we highly value the safety and comfort of our clients. This is why we only utilize regularly maintained and checked vehicles, driven by competent and trained drivers. We also understand that timeliness is a must which is why we always strive to pick you up and drop you off on time. Visit Website