The People behind the Success of Absolute Care Staffing Health Agency
Our exceptional team of professionals! Today, our team of health care professionals is something we take pride in. This team is a result of rigorous screening in order to assemble the most competent talents in the state. These individuals bring the seal of excellence with them in every home they visit and for every client's health they manage. We accomplish this through our time-tested hiring process and strict requirement for additional and on-going training.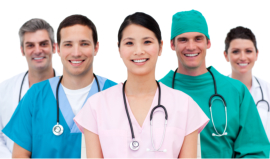 All applicants are carefully screened for training and experience that meet the specific needs of our clients. The Employee Screening process involves:
Verification of licenses and certifications
Checking of references
Performing Background studies
Upon employment, our staff will be required to attend an extensive on-site training. We also offer an online learning and continuing education program for all employees. We employ a diverse group of field professionals.