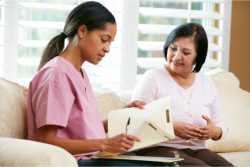 Waivered Services are designed to prevent or postpone the need for individuals to move from their homes. The goal of Absolute Care Staffing Health Agency is to help you maintain control over your health management and making decisions as to where and how you will be receiving health services.
Through Waivered Services, clients are provided with additional assistance, above the standard insurance coverage. We help you engage in health care management to improve personal health and increase your independence with daily living skills.
In some cases, our staff will also assist you in modifying your home environment to make it more conducive for your health conditions. Nurses from our agency will conduct an assessment of your home environment to identify potential health hazards and recommend adjustments that you will be comfortable with.
Please call Absolute Care Staffing Health Agency at 919-784-9218 to inquire about the availability of home health care programs in your area. We look forward to being a trusted provider of professional health care staff in your home.