Children with Special Needs
At Absolute Care Staffing Health Agency, our services are not limited to providing high-quality home care services to elderly. We also assist families and parents who have children with special needs. We first assess and evaluate the specific needs of your children prior to implementing a customized plan of care.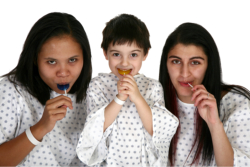 We provide services to children who are diagnosed with mental and physical disabilities that affect their daily lives. These include:
Cerebral Palsy
Attention Deficit Hyperactivity Disorder
Autism
Epilepsy
Contact us today at 919-784-9218 to verify your child's eligibility.